The extraordinary growth in the number of wireless devices found in modern homes has seen a huge increase in demand for wireless speed, range and bandwidth. This continuing trend away from wired connections to wireless communication and the ever-increasing throughput demands of new Wi-Fi devices and applications—including Internet TVs, computers, tablets and smartphones—drives the requirements in today's homes for high-performance, reliable Wi-Fi to unprecedented levels. To meet the connectivity needs of homes and businesses alike, Edimax has launched the BR-6208AC dual-band 802.11ac router: featuring the latest 11ac standard for extraordinary improvements in the speed, reliability and quality of wireless communications.
Next-Generation Wireless Networking
The Edimax BR-6208AC router supports the next generation IEEE 802.11ac wireless standard, meaning higher data rates in the 5GHz band. With 300Mbps speeds in the 2.4GHz band and 433Mbps speeds in 5GHz, the BR-6208AC is ideal for HD video streaming and large file transfers. The router is also backward compatible with 802.11a/b/g/n to ensure compatibility with legacy Wi-Fi devices.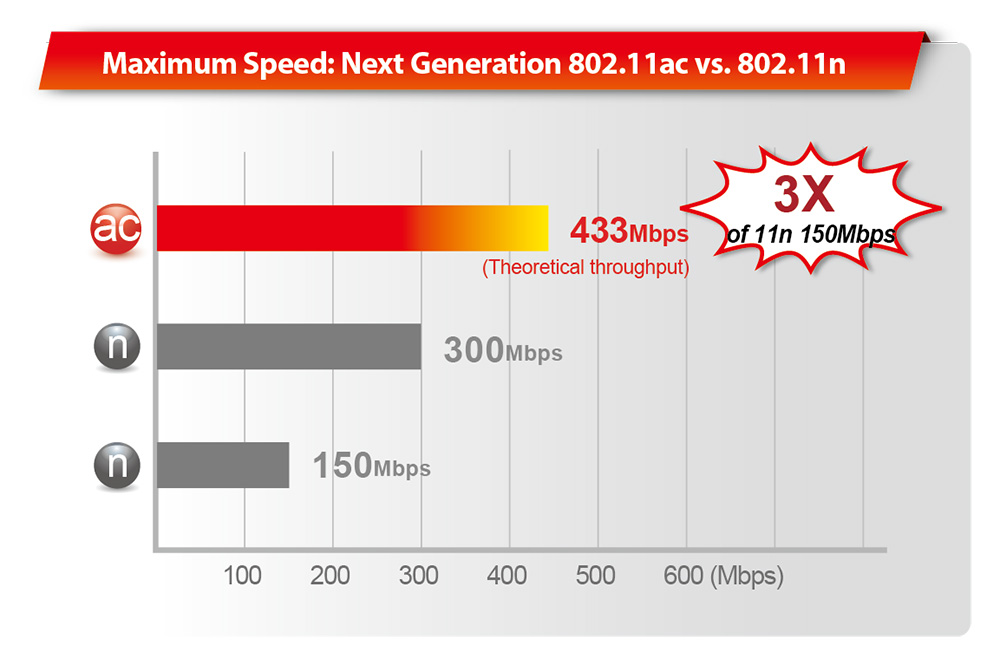 ---
Concurrent Dual-Band Wi-Fi Connectivity
The Edimax BR-6208AC router provides simultaneous 2.4GHz (802.11n) and 5GHz (802.11ac) wireless network connectivity for maximum flexibility of use.

---
Three Antennas For Better Wi-Fi Performance
Employing three external fixed antennas,the BR-6208AC provides powerful 2.4GHz and 5GHz dual-band signal strength and enhances Wi-Fi range, providing signal penetration through walls and floors across your home or office.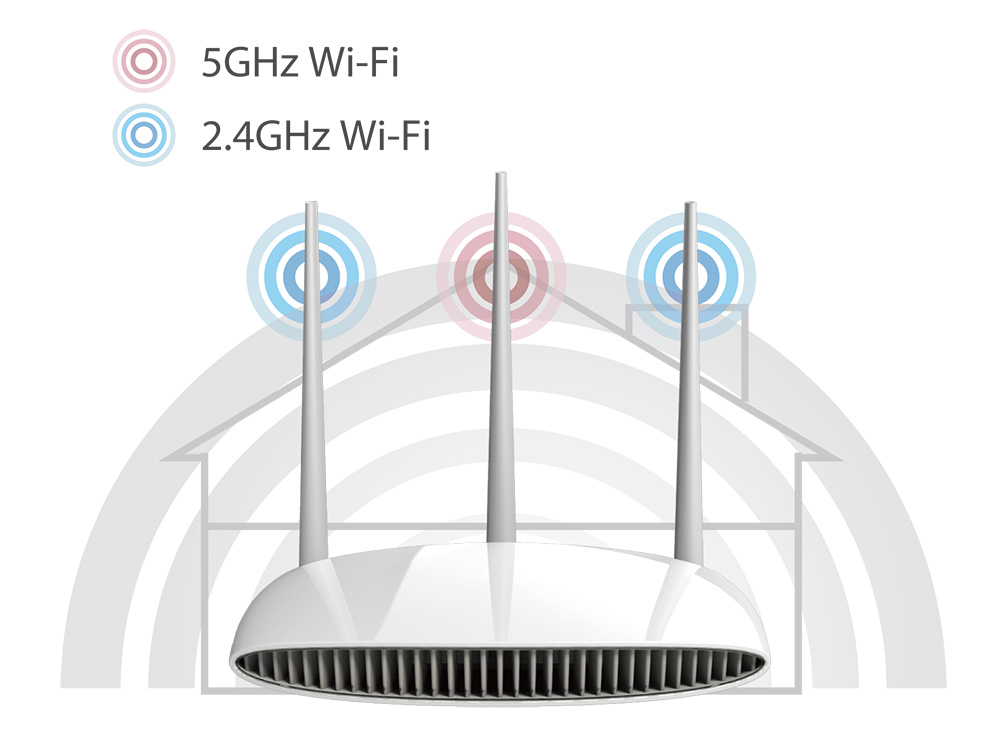 ---
5-in-1 Router, Access Point, Range Extender, Wireless Bridge and WISP
The BR-6208AC can work as router, access point, range extender, wireless bridge or WISP. Just configure the mode you need for your network environment using the smart iQ Setup wizard.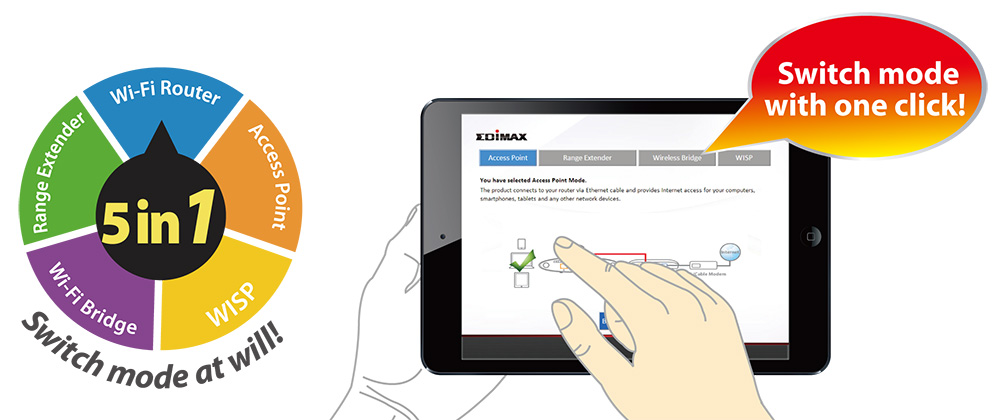 Switch mode using the smart iQ setup wizard
on any device with a web browser, no CD required.
*Mobile device setup requires iOS 4.0 or Android 4.0 and above.
---
Smart iQ Setup
Features iQ Setup for smart, automatic and quick installation with no CD required.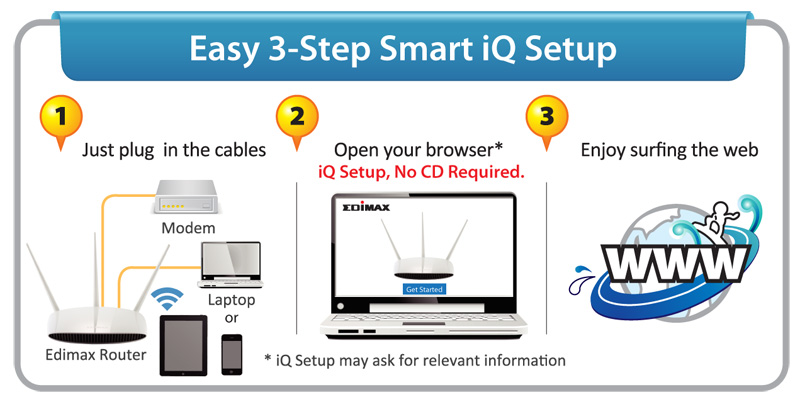 ---
Edimax's Revolutionary iQoS
iQoS is Edimax's solution for a quicker, easier, and more effective way to manage Internet bandwidth. While Quality of Service (QoS) functionality is a common feature in routers across the market, typically only advanced users have the knowledge required to set up the complex parameters. Edimax though has redesigned QoS with user-friendliness and accessibility in mind. A simple and intuitive user interface allows users to arrange bandwidth priority settings in just a few clicks. With iQoS, you can enjoy gaming, video streaming, VoIP applications and BT clients at the same time without the usual nightmare of lag and interruptions. An original, efficient and effective means of managing your Internet bandwidth.

---
Multi-SSID & VLAN Support*
​Multi-SSID enables users to configure up to eight separate SSIDs (2.4GHz x 4 and 5GHz x 4) in order to group and manage users according to your requirements. In addition, each SSID can be assigned a different VLAN ID, so users with multiple VLANs can manage the network access level of each SSID – ensuring security and protecting confidential or critical network resources.
*Access point mode only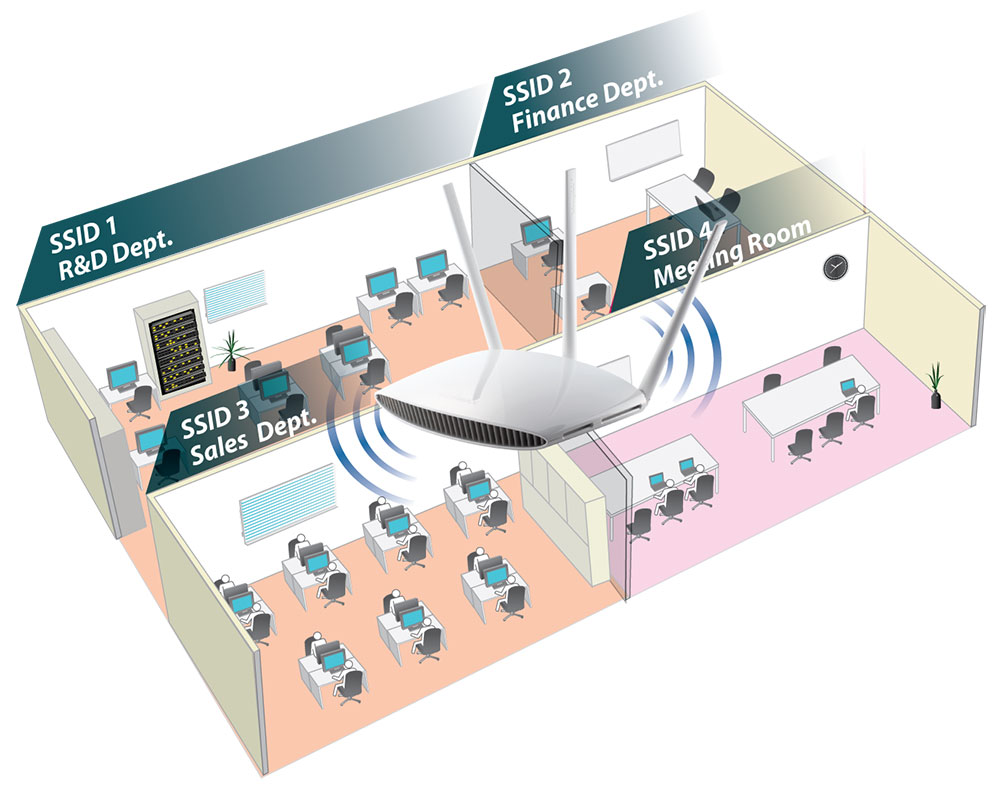 ---
Guest Network*
Supports a guest network to provide connectivity while isolating guests from your primary network.
*Router mode only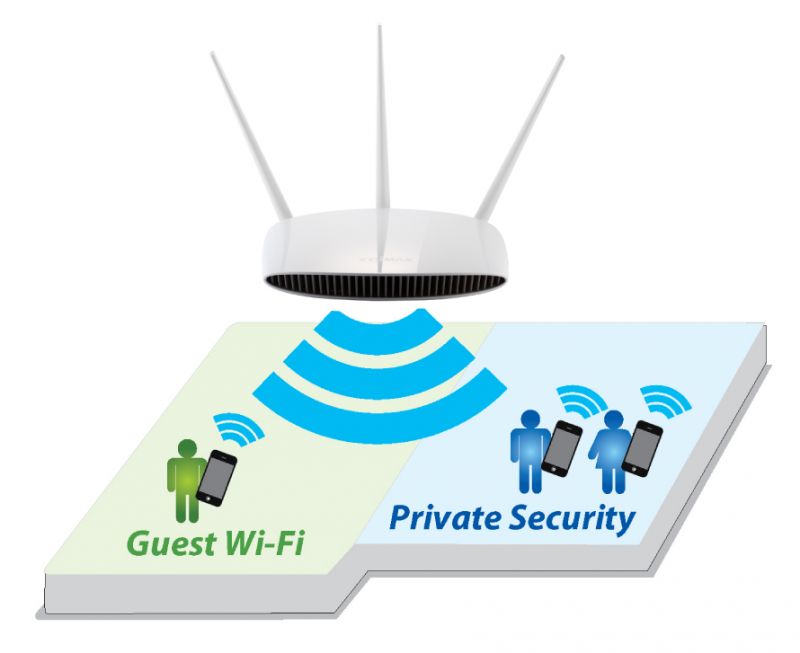 ---
APPLICATION DIAGRAM
*Maximum performance, actual data rates, and coverage will vary depending on network conditions and environmental factors.
*Actual viewing resolution and frame rate of network cameras depend on connection speed.
*Product specifications and design are subject to change without notice.