Modern homes and businesses need high-performance, reliable and secure Wi-Fi. The BR-6478AC V2 dual-band 802.11ac router features the latest 11ac standard for faster, better Wi-Fi and built-in VPN support to make VPN access easy across all of your devices. Easy, secure access to remote networks from anywhere as well as privacy, security and freedom from regional restrictions online. The improved V2 design also features a new USB port for file & printer-sharing across your network. Attach a USB hard-drive for central NAS (Network Attached Storage) access on any device in your network and stream content at lightning, lag-free 11ac speeds.
Next-Generation Wireless Networking
The Edimax BR-6478AC V2 router supports the next generation IEEE 802.11ac wireless standard, meaning higher data rates in the 5GHz band. With 300Mbps speeds in the 2.4GHz band and 867Mbps speeds in 5GHz, the BR-6478AC V2 is ideal for HD video streaming and large file transfers. The router is also backward compatible with 802.11a/b/g/n to ensure compatibility with legacy Wi-Fi devices.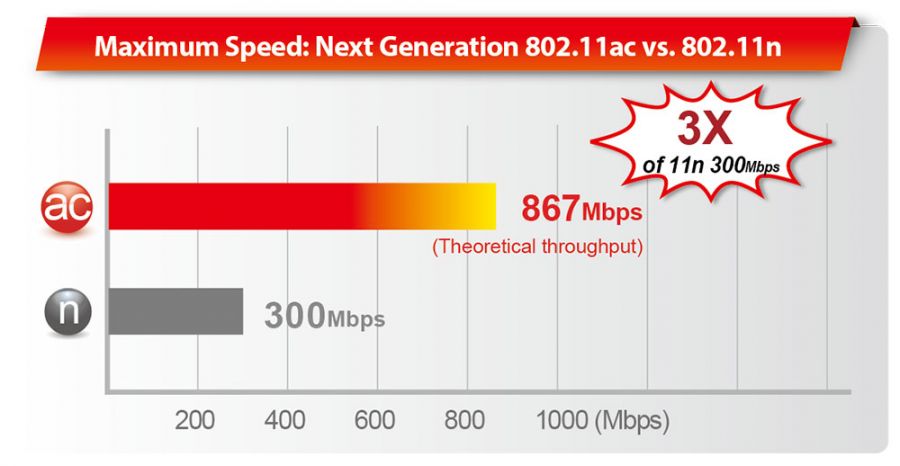 ---
Concurrent Dual-Band Wi-Fi Connectivity
The Edimax BR-6478AC V2 router provides simultaneous 2.4GHz (802.11n) and 5GHz (802.11ac) wireless network connectivity for maximum flexibility of use.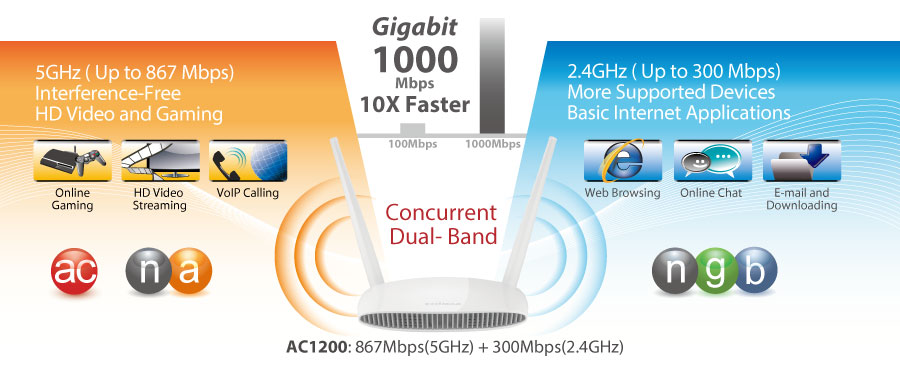 ---
VPN Access for Privacy & Security
Built-in Virtual Private Network (VPN) support for easy VPN access on all your devices. VPNs enable you to access secure, remote networks from anywhere and can offer privacy and security online. Log in to your work/school network remotely or avoid geoblocking, protect privacy on public Wi-Fi and bypass Internet censorship.
Home Users: Avoid regional restrictions and access geoblocked content such as Netflix or iPlayer from anywhere. Ensure your privacy and anonymity online and defeat censorship and other location-based content restrictions. You can also remotely access your home network when you're away, and use your encrypted VPN for security when out and about using potentially unsafe public Wi-Fi hotspots.
Small Office Users: Enable your employees to access company resources remotely such as email, documents saved on the company server and any programs/systems when they are outside the office.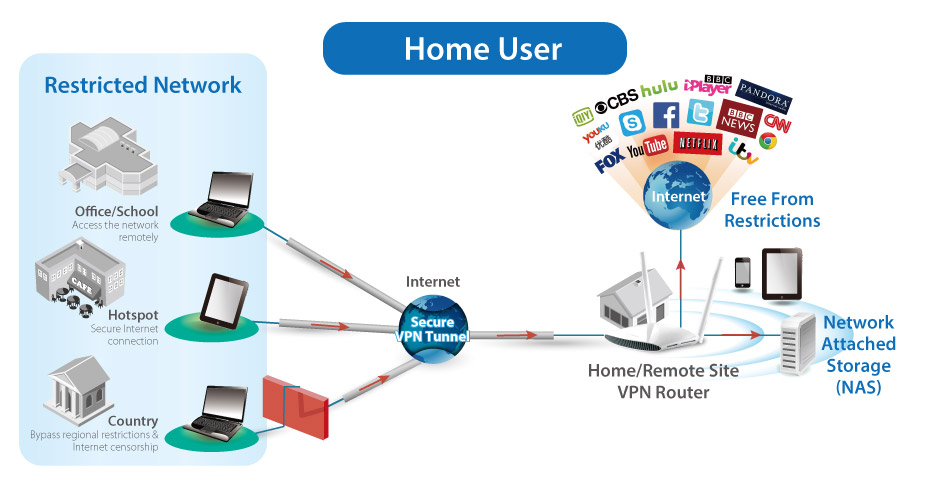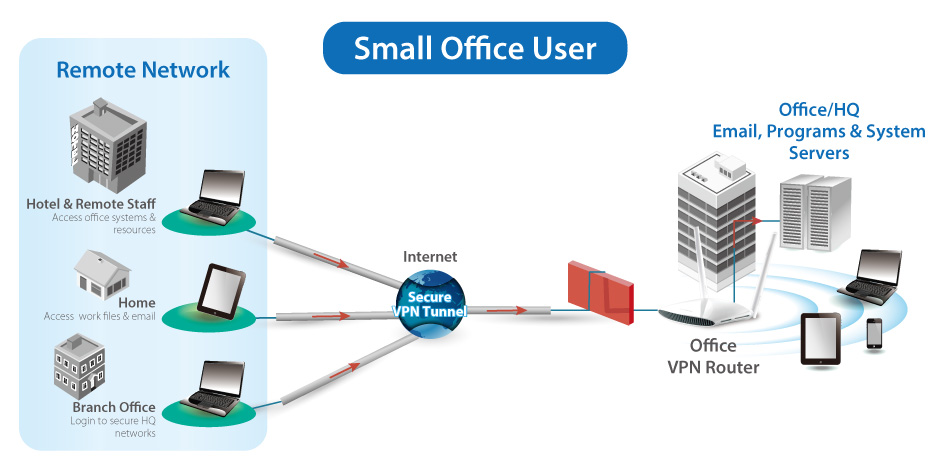 ---
Multi-Function USB Port
Connect a USB hard-drive and enjoy your own private cloud storage. Keep content on your central storage and access it from any device on your network, such as movie and TV streaming to PCs or smart TVs, or for regular backups of vital data. With the built-in VPN function you can even access your network remotely when you're away from home. It can also be used with an FTP server or printer, so any devices on your network can print over your Wi-Fi.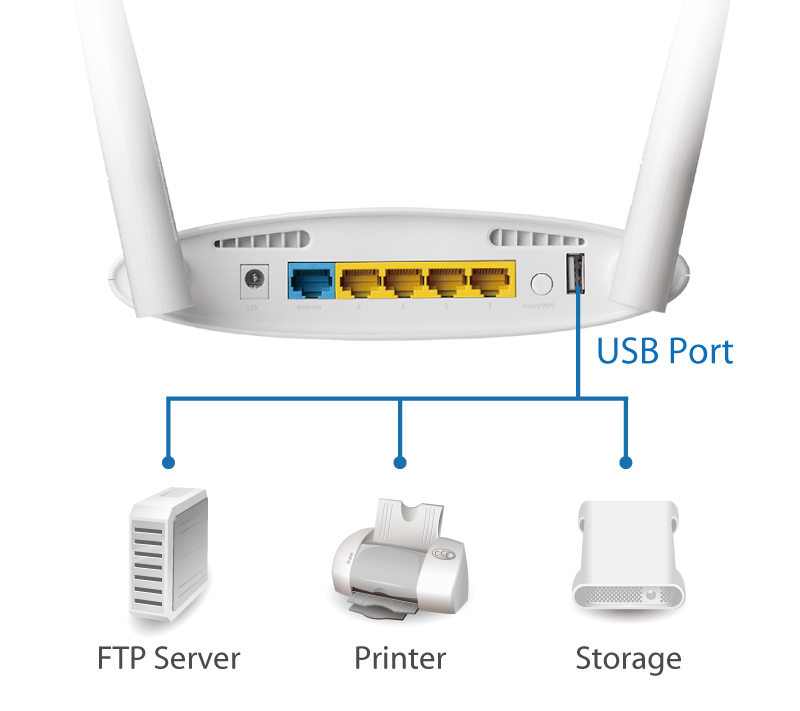 ---
Smart iQ Setup
Features iQ Setup for smart, automatic and quick installation with no CD required, no smartphone app downloaded, and no PC required.

---
5-in-1 Router, Access Point, Range Extender , Wireless Bridge and WISP
The BR-6478AC V2 can work as router, access point, range extender, wireless bridge or WISP. Just configure the mode you need for your network environment using the smart iQ Setup wizard.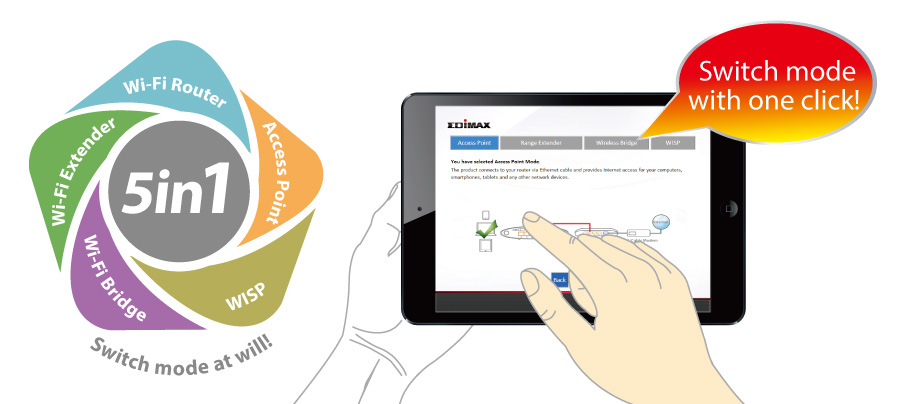 Switch mode using the smart iQ setup wizard
on any device with a web browser, no CD required.
*Mobile device setup requires iOS 4.0 or Android 4.0 and above.
​
---
High Gain Antennas For Better Wi-Fi Performance
Employing two external high-gain fixed antennas,  the BR-6478AC V2 provides powerful 2.4GHz and 5GHz dual-band signal strength and enhances Wi-Fi range, providing signal penetration through walls and floors across your home or office.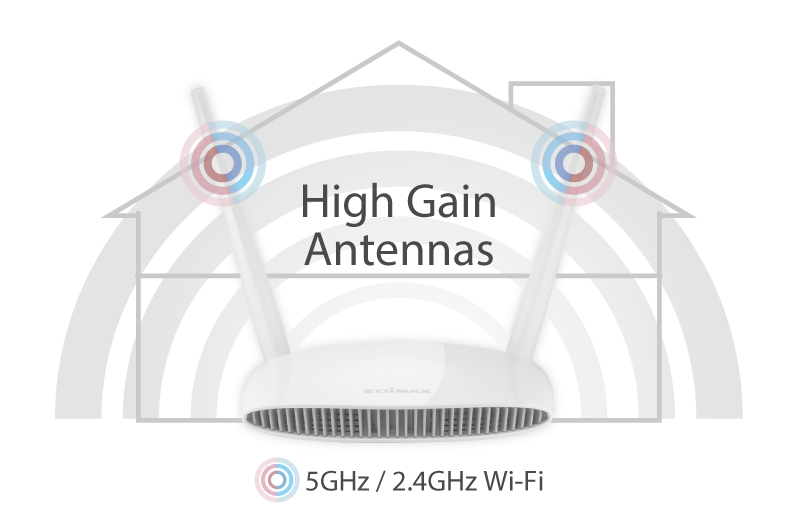 ---
Edimax's Revolutionary iQoS
iQoS is Edimax's solution for a quicker, easier, and more effective way to manage Internet bandwidth. While Quality of Service (QoS) functionality is a common feature in routers across the market, typically only advanced users have the knowledge required to set up the complex parameters. Edimax though has redesigned QoS with user-friendliness and accessibility in mind. A simple and intuitive user interface allows users to arrange bandwidth priority settings in just a few clicks. With iQoS, you can enjoy gaming, video streaming, VoIP applications and BT clients at the same time without the usual nightmare of lag and interruptions. An original, efficient and effective means of managing your Internet bandwidth.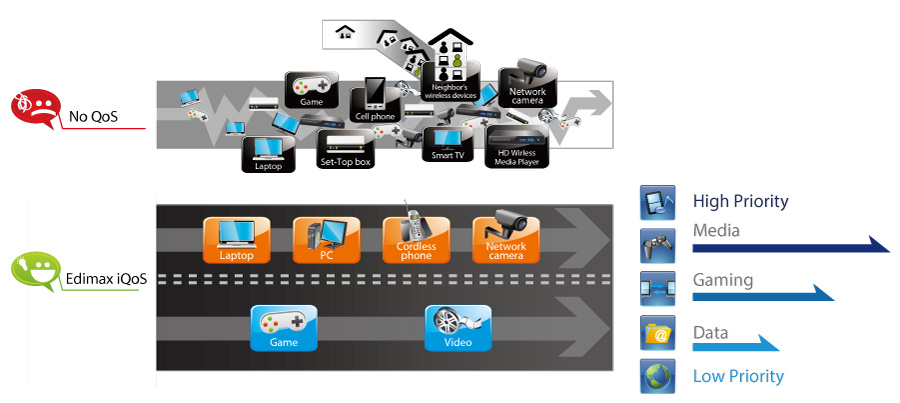 ​
---
​Multi-SSID & VLAN Support* 
Multi-SSID enables users to configure up to ten separate SSIDs (2.4GHz x 5 and 5GHz x 5) in order to group and manage users according to your requirements. In addition, each SSID can be assigned a different VLAN ID, so users with multiple VLANs can manage the network access level of each SSID – ensuring security and protecting confidential or critical network resources.
*Access point mode only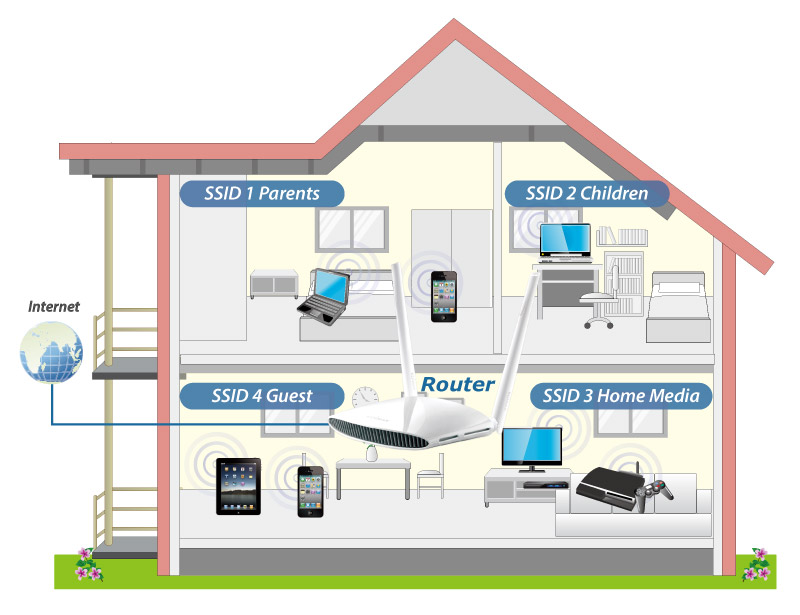 ---
Guest Network*
Supports a guest network to provide connectivity while isolating guests from your primary network.
*Router mode only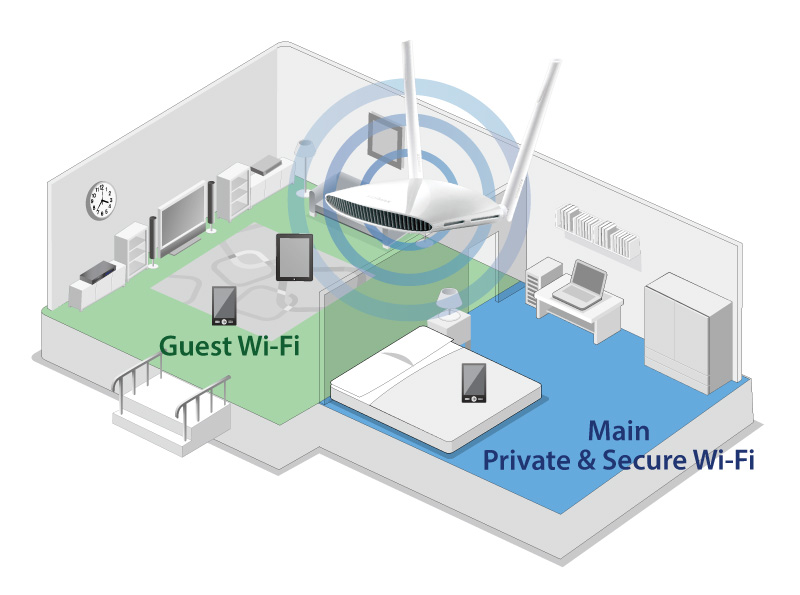 ---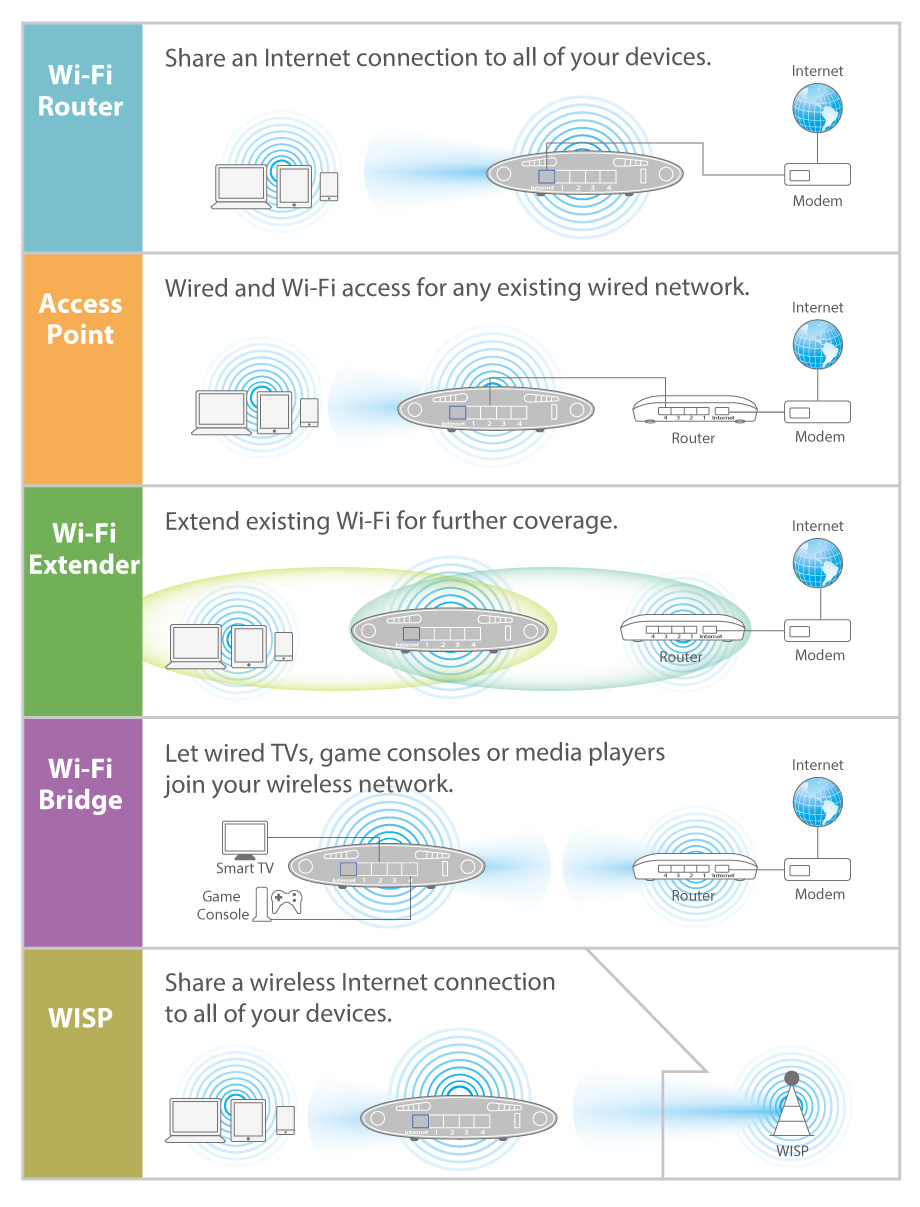 ​
*Maximum performance, actual data rates, and coverage will vary depending on network conditions and environmental factors.
*Actual viewing resolution and frame rate of network cameras depend on connection speed.
*Product specifications and design are subject to change without notice.